Torus v.23 Update Brings New Features, Lays Groundwork for More Improvements
Torus users will see changes to the platform on April 24, 2023
It is now available via the CMU Simon GitHub
Users will see changes in the Torus UI
We have a new, regular cadence of updates; as a part of the Torus community, we hope you'll participate in this work.
OLI users will see changes to the Torus platform and get access to new features on April 24th, 2023. The v.23 release, available now on GitHub, brings new capabilities and builds key infrastructure that sets the stage for this summer's v.24 release. Users can access the updated software at https://proton.oli.cmu.edu/ on April 24, 2023.
This release focuses on two key strategic efforts: features for the Equity-centered Exemplar Chemistry project and requirements for continued migration from the Legacy OLI platform. In addition, we've added a few new capabilities. High level changes include:
Key New Features in V.23
Portals
New student and instructor portals will become the new landing pages when entering a course. These control panels offer learners and educators targeted guidance that will help them adapt their approach and focus on upcoming assignments, learning outcomes, applying new skills and more to come.
Learning Analytics
This release lays out a new, underlying infrastructure to support better analytics for learning, instruction, improvement and research. It includes a student-facing progress metric, and lays the groundwork for rapid new analytic approaches as the platform advances.
Explorations
Some of OLI's most successful courses have domain-specific learning activities that emphasize the application of new skills – StatTutor, ProofLab and Chemsitry's Virtual Laboratory exemplify this approach. Now, these applied applications can be thoughtfully integrated and highlighted across courses. Called "explorations," this type of activity forms a key part of the Exemplar Chemistry vision, but will be available to all authors who want to emphasize these applications in ways that integrate across the course.
Collaborative Activities
This release features foundational elements to support a range of collaborative activities, from social annotation to chat and discussion forums.  Initial capabilities will focus on discussion-forum and live chat style conversations and notes at the page level, but collaborative spaces will evolve to support existing collaborative activities styles and richer social annotation capabilities.
Scheduling
The new UI support improved gating and firm schedules and allows users to assign "soft schedules" for areas of the course not tied to firm deadlines.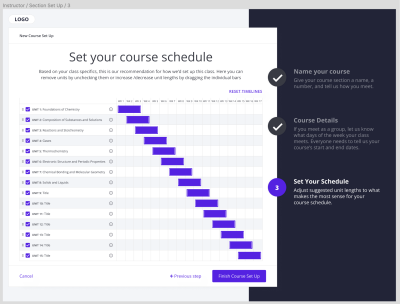 Payment Via Cashnet
This release integrates with CMU's Cashnet system and allows for full payment capabilities for CMU courses.
Experimental Capabilities
New integration with the UpGrade system will allow for robust A/B testing of course materials and pedagogical approaches. Different sets of materials can be associated with different experimental conditions; via the UpGrade integration, the system automates condition assignment and reporting.  This feature also provides a foundation for future experimental capabilities, such as adaptive experimentation.
What Will Change?
Users should expect to see some interface changes as new UI and capabilities come online:
Students will see the new Student Portal as their entry point – they will still have access to a full outline of the course but will also see easier access to scored assignments and explorations, along with clearer guidance towards the most relevant learning activities.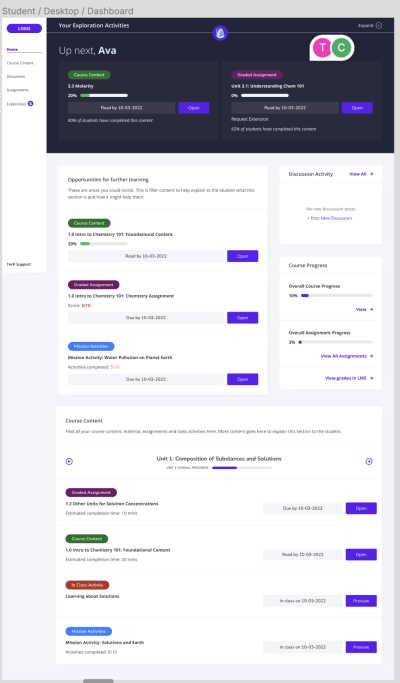 Instructors will find a new Instructor Portal as they enter the course, providing an overview of their class, and surfacing new discussion posts in those courses where collaborative spaces have been enabled. New scheduling features will also become available.  The portal sets the stage for a host of additional features planned for the future v.24 release (new learning analytics and student details).
Authors and Researchers will find a host of new capabilities – Torus pages can be designated as Explorations to emphasize key applied learning activities in related learning pages. Collaborative spaces can be enabled and structured for Torus pages. Products can now have pricing attached and collect fees via CMU's credit card payment gateway. And new Alternative content can be specified and associated with different experiments and experimental conditions, which can then be administered using UpGrade. We will also see a variety of new legacy-related content and deliver features brought online.
What's Next? v.24 and Beyond
The release is scheduled for July 20, 2023 in time for the fall semester (and offering a chance to highlight new capabilities at LearnLab Summer School and at the IEEE ICICLE conference).  Key features for v.24 include:
Adaptive Page Flow Chart based authoring feature
Full instructor course details view
Student details view
Soft-schedule-driven portal features
Remaining Analytics Infrastructure
LTI Launchable Activities
Emerald Cloud Lab content type integration
Course section creation wizard
Student onboarding wizard
Improved Support Requests and Tooling
Instructor alert notification system and one alert type
Upfront student required survey
Assignments view
Looking further ahead: while we've identified possible features for the remaining 2023 releases (v.25 and v.26), we still need input and a discussion as a community to bring focus to these releases.  We will discuss what should be considered in these future cycles with the larger Torus community at the upcoming Torus Community meeting on May 5th.